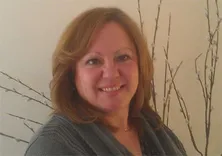 Directo r of Stress Ma nagement Counseling Center, Nancy L. Douglass, is a licensed Psychotherapist and Executive Coach specializing in individual, couples and family therapy, and maintains a private practice in Clinton, NJ.
With over 20 years of experience with adults, teens, children, couples, and families, and as a graduate of The College of New Jersey's highly regarded Counselor Education Program, Nancy specializes in Cognitive Behavioral Therapy, Reality Therapy, and Mindfulness-Based Stress Reduction. Among her areas of expertise as a NJ licensed psychotherapist include:

Stress Management
Anxiety (including Panic, OCD, worrying)
Mood Disorders (including Depression and Bipolar Disorder)
Improving Relationships
Substance Abuse
Teen Development and School Issues
Parenting
Chronic Pain
Family and/or Career Problems
Grief
Nancy's therapeutic and Executive Coaching approach is to provide individulized support and practical feedback to help each client effectively address personal life challenges. She integrates complementary techniques
to offer a highly personalized approach tailored to each client
. With compassion and understanding, she works with each individual to help them build on their strengths and attain the personal growth they are committed to accomplishing in
a caring and completely non-judgmental environment.
Education: Master's Degree in Counseling from The College of New Jersey

Licenses / Certifications : NJ Licensed Professional Counselor (LPC), NJ Licenced Clinical Alcohol and Drug Counselor (LCADC), National Certified Counselor (NCC), NJ School Substance Awareness Coordinator (SAC), and School Counselor
Additional Training : Numerous hours of continuing education in Adolescent Development, Child and Adult Psychopathology, Substance and Process Addictions, Mindfulness-Based Stress Reduction, Couples / Relationship Counseling, Grief and Loss, Chronic Pain, Career Counseling, & Elder Issues

Professional Memberships : American Counseling Association, Association of Student Assistance Professionals